Girls Weekend
Ready for a fun girls' weekend?
Whether you're looking for a relaxed bachelorette weekend or you want to let loose and unplug with your BFF's, Mineral Wells is a fun destination for your next girl-getaway.
Relaxing
Mineral Wells was once known as the "South's great health resort". And while we've not been called that in many years, we're quickly reclaiming that title. Soon, the Baker Hotel and Spa and the Crazy Water Hotel will both reopen and offer the luxury and mineral water spa treatments that made us famous. But you don't have to wait for them to open to pamper yourself.

Enjoy a mineral bath and massage in this adorable early 1900's house reminiscent of the bathhouses that drew hundreds in the 1920s. And if you're traveling with a small girl posse, you can even stay the night in the guest rooms.

If what you're looking for is a breath of fresh air and an unhurried pace, Clark Gardens may be just the place. With 35-acres of beautiful gardens, soothing water features, and serene walkways, it's the perfect place to escape the everyday and reconnect with the girls. Here's a map to the gardens to help you plan your visit.

Hidden Gem: Max, who originally built the gardens with his wife, still works in the gardens. If you see him, stop and say hello. Now in his nineties, he such a sweet man, and a chat with him will make your day.
Yoga on the Rooftop of the Crazy Water Hotel

Stretch away your stresses and find your inner peace with a yoga class.
Try hot power yoga or with Pav Yoga. You can also catch one of their rooftop classes at the Crazy Water Hotel or one of their other special events.
The Sill offers hot yoga, cardio dance classes, and more. Join them for a class in their studio in downtown Mineral Wells. Get more info and check out their schedule here.
---
Playing
take a class or workshop
Making something creative with the gals is fun and a great way to bond. Check out these workshops while you're here.


Lexis, owner of The Flower Shop at 76067 offers all kinds of workshops from floral arranging to wreath making. Check out her schedule here.

Want channel your inner Bob Ross? Well, okay…you won't be painting landscapes and masterpieces, but you will paint or create something fun. You can even book a room for parties and events.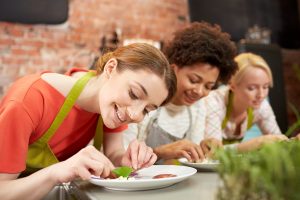 How about a cooking class?
Sip on a little wine while you learn to cooking a tasty meal. Afterwards, you can head out to the patio and listen to some live music. Find out when the classes are and who's playing here.


You never know what they'll be teaching at The Market.
Every Saturday (when we're not social distancing), one of the more the 100 vendors does a demo or teaches a class. So you could be spinning pottery, making a greeting card, or working with leather.
Follow their Events page for details on demos and classes.
Do a little shopping…or a lot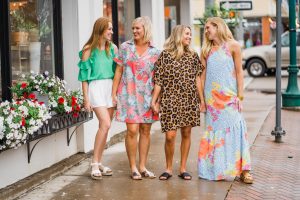 Oh my goodness, the shopping. Just in the Downtown alone, you could spend the day shopping to your heart's content. Stop by the Visitor Center for our Downtown Map to find all the shopping and dining down there. *We would link to it here, but our Downtown is growing super-fast right now. So that map gets outdated really quickly.
Here are some shops you'll definitely want to check out.
Famous Mineral Water Company Home of Crazy Water

Take a step back into Mineral Wells' past at the original Famous Pavilion. See what it was like to sit at the pavilions and sip on the mineral waters that made us so popular back in the early 1900's. Sample the different levels of Crazy Water, have a Crazy Soda, shop for souvenirs and pick up some vintage Mineral Wells postcards.


We've already mentioned them, but with more than 100 vendors in the "Anthropology-style" shop, it's a MUST. Pop in at Coffee & Cocktails @ 76067 to grab a coffee or…you guessed it…cocktail first because you can sip on it while you shop in The Market.
Brazos Market & Bistro



This is the place to get quirky, sassy, and sarcastic souvenirs and treasures. While you're there, you can grab a bite to eat. Shopping is hard work, after all.
And come back in the evening for some live music out on the patio- also known as The Hole in the Wall Grill & Bier Garten.
Merrimac & North


Love finding antique treasures and restyled furniture? Merrimac & North has some beautiful pieces. And you can satisfy your sweet tooth with fresh baked cookies and homemade fudge while you're there.

Looking for a new outfit? You'll find it at one of these shops.

Hidden Gem:The Kraze has that old fashioned candy we all love- from taffy by the ounce to candy cigarettes, it's a blast from the sugary past.
Antique Shopping

You can also find antiques at The Weekend Store and Witschorke's Antiques & Collectibles.
Take in some local color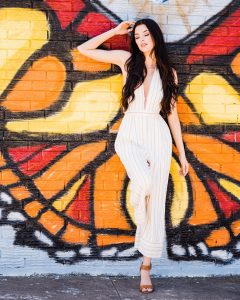 What girls weekend is complete without lots of photos?
Downtown Mineral Wells is home to more than 20 murals with everything from flying pigs to human-sized butterflies and interactive murals to renderings of local people from days gone by. Whatever your style, you're sure to find lots of Instagram-worthy photo spots. We have so many going up that you'll have to come by the Visitor Center for the most up-to-date map of the murals.
Enjoy the Nightlife
The fun doesn't stop when the sun goes down. Mineral Wells is host to lots of great live entertainment, trivia, cornhole tournaments, karaoke and more. Check out this line up for your evening fun.
slumbering
After all that, you're going to need your beauty sleep so you can get back up and go again tomorrow. No worries, we've got you covered there too. To see all our lodging possibilities, you can visit our Where to Stay page. But since this is a girls weekend, we thought you might be looking for something special.
If you're traveling with a small group of 3-5, these are some great options.



The Lofts & Hospitality (The Lofts, for short) is the perfect spot if there are no more than 4 of you. It's a complete urban-living style apartment with 2 bedrooms, a dream kitchen, a game room with a pool table and poker table, and a balcony that not only boasts an incredible view of the Baker Hotel, but also looks over The Hole in the Wall Grill & Bier Garten.
Yes, that was definitely a mouthful…but seriously, this place has it going on.



We've already talked about the Bath House, but let's talk about the rooms. They have two bedrooms that can sleep 1-2 people each and when you reserve the room, it includes private mineral baths and a continental breakfast. So you can enjoy a relaxing massage right there in your own room.
For larger groups, you'll want to checkout these options.
Rest Yourself River Ranch



For a true retreat experience, you have to check this place out. Formerly the old Seybold Ranch, this completely restored retreat is stunning. They can sleep 5-90 and when you make a reservation, you get the whole ranch to yourself. One guest-party at a time.
That means you get all the river access, courtyard, river-view covered porch, game room, volleyball-everything-all to yourselves. You'll feel like you're way out in the county but it's just seven miles from Downtown Mineral Wells.


Coming soon. Magpie Inn is a traditional B&B within walking distance of all the shopping, dining, and murals in the downtown area. They aren't quite open yet, but follow their Facebook page for the big announcement.
We could go on and on, but clearly there's plenty to do. So call the girls, pack your bags, and get yourselves to Mineral Wells for a Girls' Weekend you won't soon forget.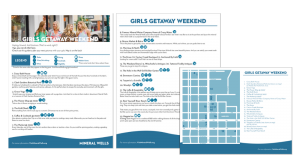 Don't forget to grab your printable Girls' Weekend Planner & Map.