Made famous in the 1920s for our "healing" waters, Mineral Wells brought wellness seekers from around the country. They would come for a "season" to partake the water in any way they could.
While most of the mineral water companies closed following the Great Depression, visitors can still experience waters from the most famous of our wells, the Crazy Well. Take a seat at the water bar and have a sip or enjoy a relaxing soak, just for starters.
Experience the Waters at the Famous Water Drinking Pavilion
For a truly historic experience, a visit to the original Famous Water Drinking Pavilion is a must. As you enter the doors, it's like taking a step back into the early 1900s.
The famously friendly folks there will tell you the stories of Mineral Wells as they offer you a sample of each of the Crazy Water levels. From there, you'll certainly want to discover all the ways you can enjoy the waters and even take it home with you.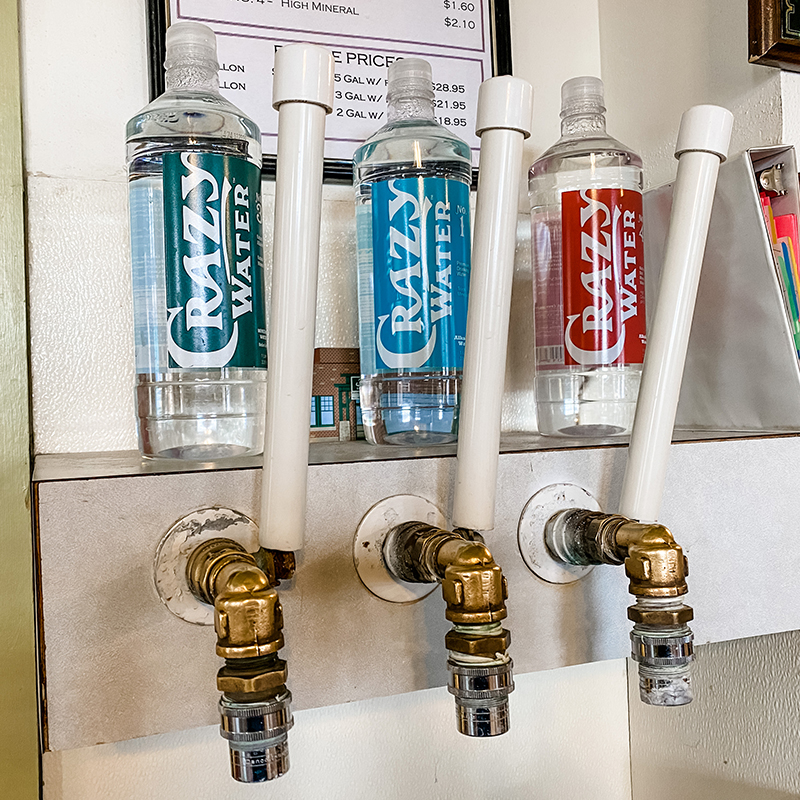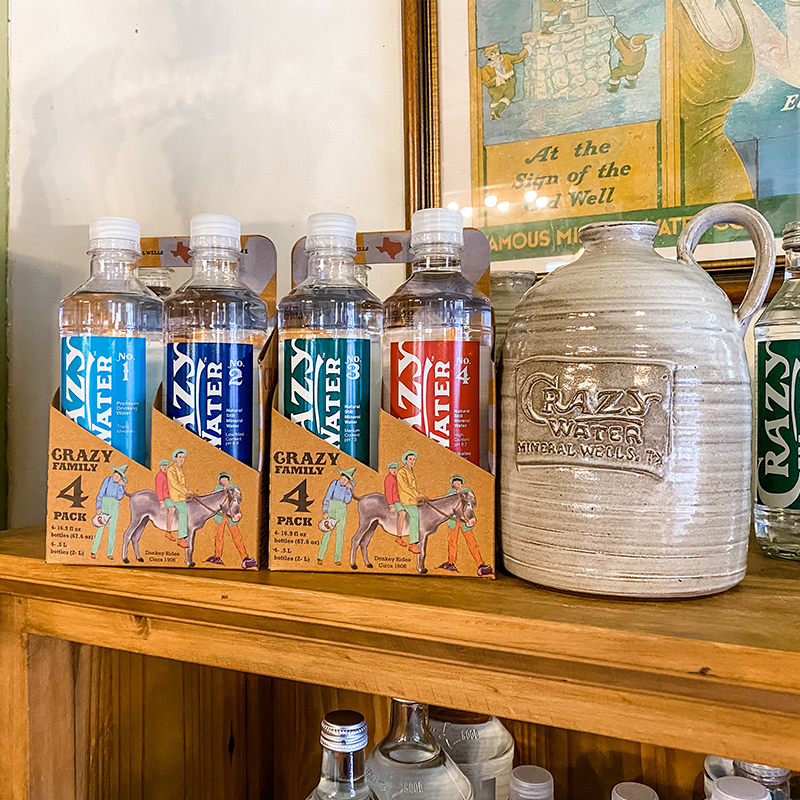 Bottled Water
Crazy Water 1-4 can be purchased in bottles, or you can bring your jugs and they'll fill them up for you. You can even purchase a sample pack that includes one of each.
Specialty Waters and Sodas
Love a little fizz in your drink? They've thought of that too. It's called Crazy Fizz and it comes in a glass bottle.
Looking for something on the sweet side? Enjoy a made to order Crazy Soda or Crazy Crème soda. A few of their crazy-fun flavors are Sour Apple, Blue Raspberry, Peach Mango, and Orange Crush.
Crazy Sprouted Nuts
You're bound to be a little hungry by now and Crazy Sprouted Nuts are the way to go. They're good for you and oh so good to you.
Bath Products
Don't forget to treat your skin. Made with Crazy Water, their soaps and lotions are a great way to take a little spa experience home with you.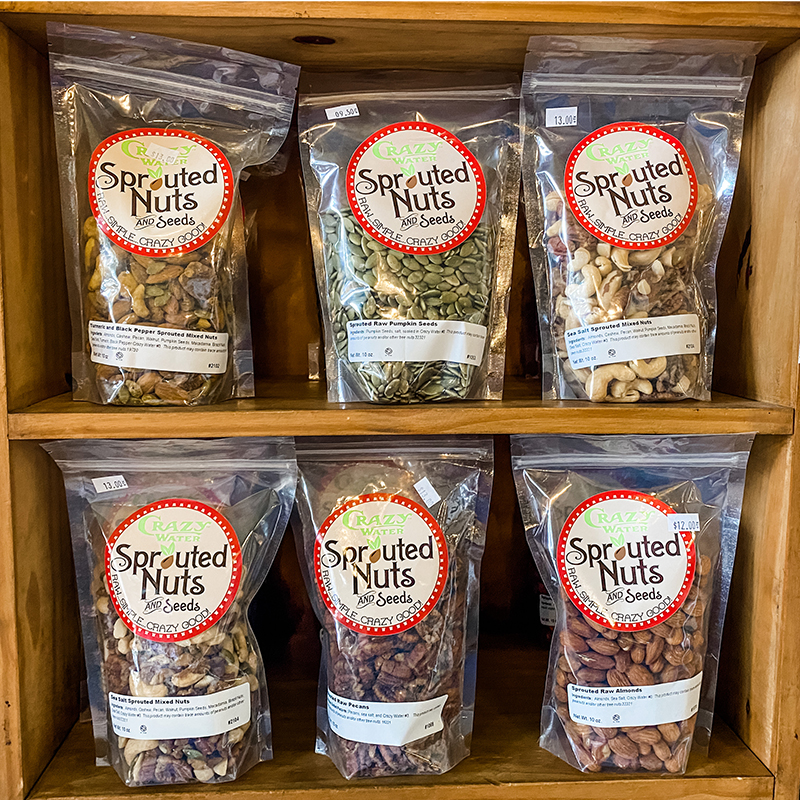 Souvenirs
Though not made with the water, they offer lots of fun and crazy souvenirs from T-shirts and caps to decorative signs and vintage postcards.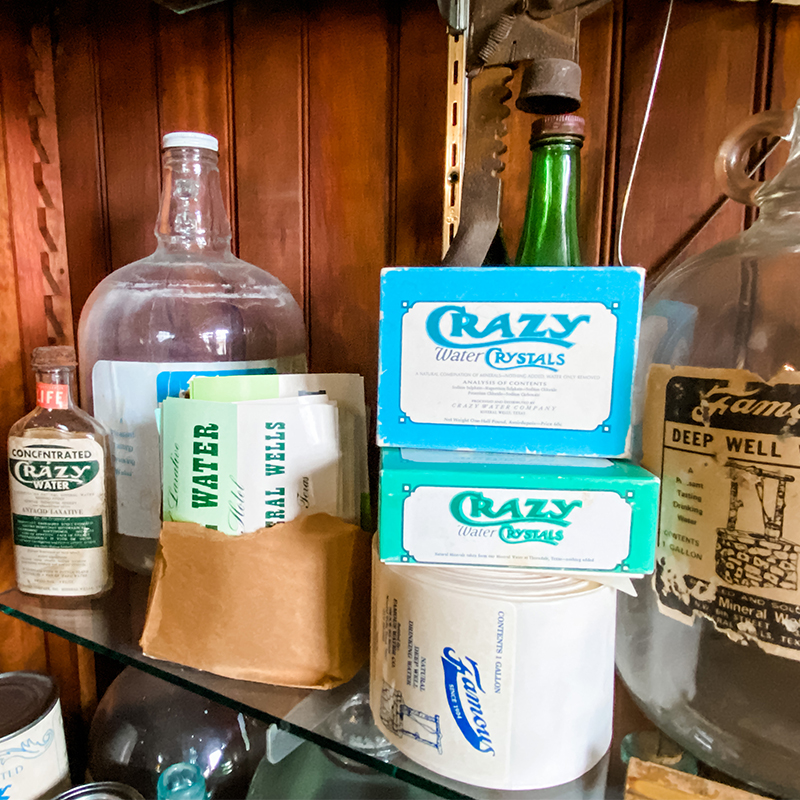 Crazy Water History
Before you go, check out their collection of historic artifacts from the early days. From a box of Crazy Crystals to a Crazy Water train car, historic photos and old apothecary bottles, you'll find some of craziest bits of Mineral Wells history.

Though bath houses succumbed to the same fate as the mineral water companies and closed, you can still soak in the mineral rich waters today. The owners of the Famous Water Pavilion repurposed a small home just behind the pavilion, turning it into a charming bath house where you can relax and soak your cares away.
Mineral Bath
Enjoy a relaxing soak in the mineral waters. Injected with microbubbles they naturally cleanse, exfoliate, and moisturize while you hydrate with a bottle of Crazy Water.
Massage
They offer several different massage treatments from Swedish to Hot Stone for individuals and couples.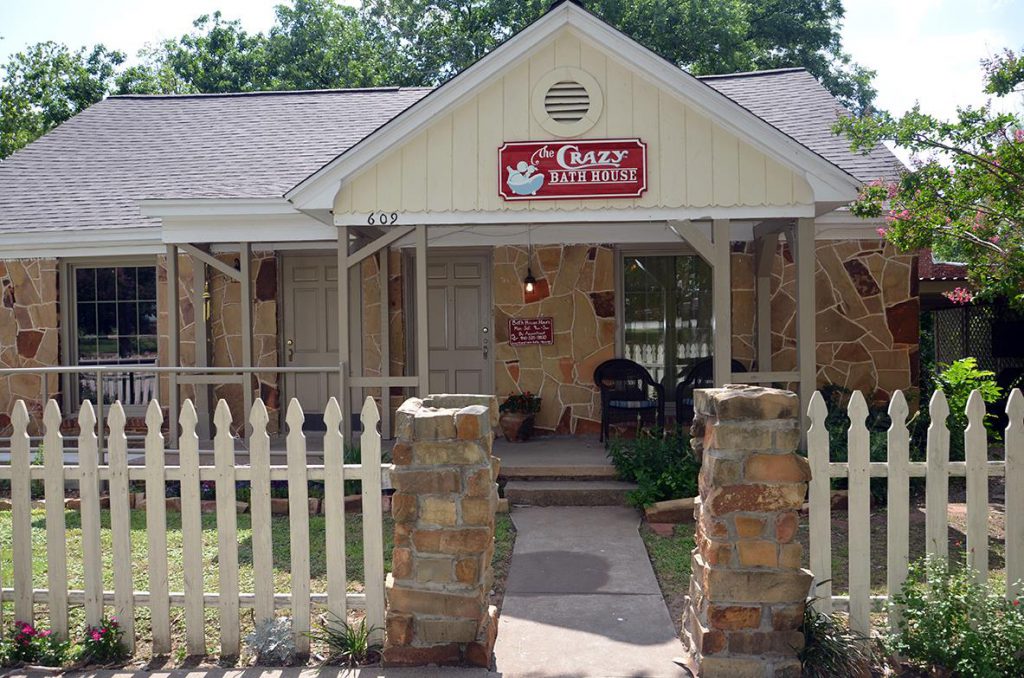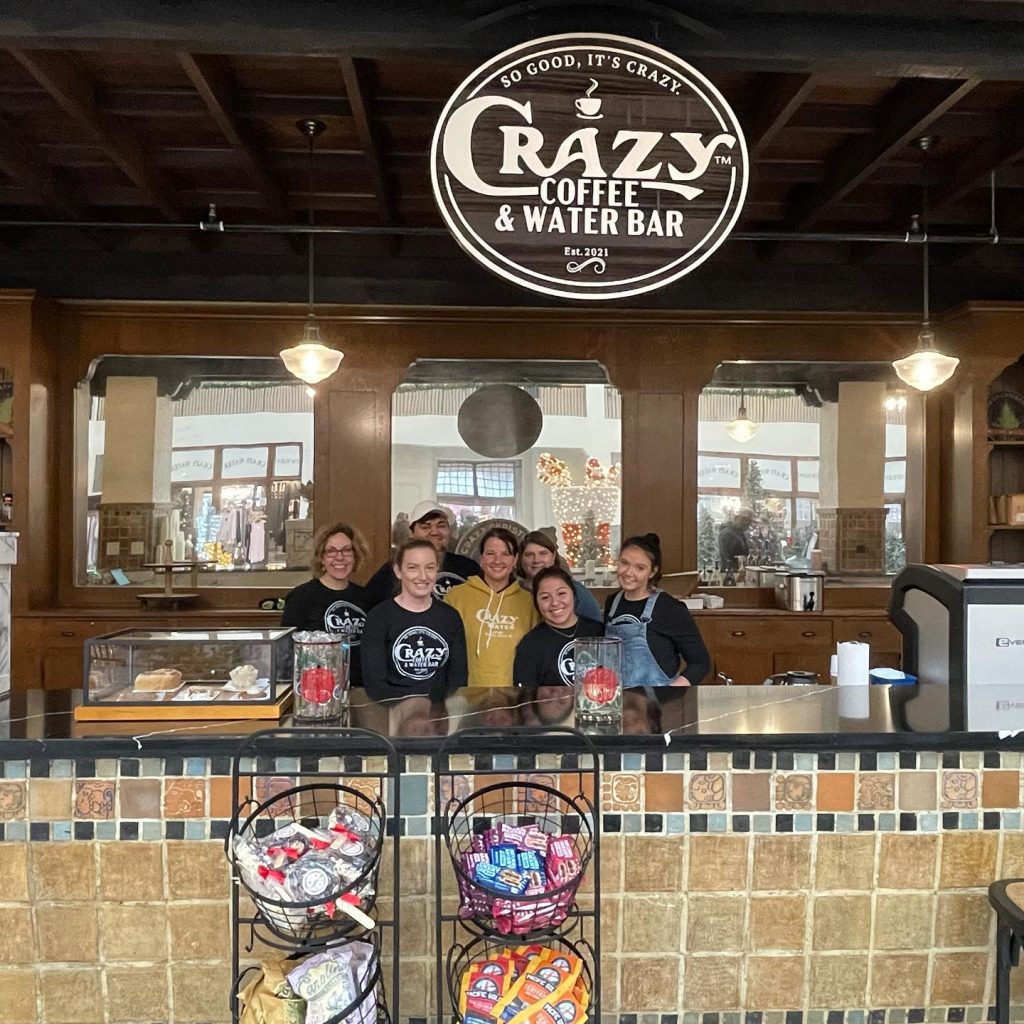 The newest addition to the Crazy Water family is the Crazy Coffee & Water Bar in the Crazy Water Pavilion of the historic Crazy Water Hotel. Whew! That's a lot of crazy!
The Crazy Water Hotel has been renovated and re-opened as the Crazy Water Plaza. They offer hotel rooms, residential apartments, event spaces, shopping and dining. Even the original Crazy Water Drinking Pavilion was restored. It is now the Crazy Coffee & Water Bar, operated by the same folks as the Famous Water Pavilion.
Belly up to the bar or join friends at the bistro seating and chat over a cuppa, all made from our crazy, famous mineral water. You'll love the coffees, teas, and syrups made from Crazy Water.
See the Original Crazy Well
While you're at the Crazy Water Plaza, you can see the spot of the original Crazy Well. On the northwest corner of the Crazy Water Hotel in the sidewalk, you'll see what looks like a manhole cover. That's it. That's the well where the "crazy" woman drank herself to health. You can read more about that HERE or watch this episode Expedition Texas to see Bob Mauldin explore the Crazy Water Hotel and this well.
Enjoy Some Crazy Beer
Soon, you'll be able to kick back with cold, frosty beer made from Crazy Water. Follow Rickhouse Brewing to find out when they'll open in the southeast corner of the Crazy Water Plaza.
Well, (pun intended) that's about it…for now. As Mineral Wells continues to restore our town's buildings and history, there'll be more and more new ways to experience the waters that put us on the map.
Want to make sure you don't miss any of these fun experiences on your next visit? Download this handy dandy Experience the Waters Guide and bring it with you.