dining guide to eats and drinks you can get only in Mineral Wells
Mineral Wells may be known for The Baker Hotel and Crazy Water, but it's also home to some crazy-good eateries. From finger licking good barbecue to more exotic cuisine, there's something sure to delight your taste buds. Here's your dining guide to eats and drinks you can get only in Mineral Wells. Take a look at these delectable dishes and discover your new favorite the next time you're in Mineral Wells.
Dairy Mart
Once featured as one of 11 rural restaurants in Texas "worth the drive", The Dairy Mart has been a local favorite since they opened their doors in 1968.  And rightly so, because they have the best burgers around. They're not afraid to tell you so.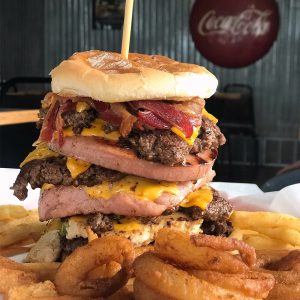 And if you love a great food challenge, they have one that'll certainly put your best competitive eating skills to the test. It's called, The Crazy Meat Monster. It's a mile-high burger stacked with 4 beef patties, chicken, ham, bologna, bacon and cheese. Eat the whole thing along with the fries in 20 minutes and it's free! We brought one back to the office at Visit Mineral Wells and with three of us working at it, we've barely made a dent. But what we did eat was oh so good!
Not up for the whole food challenge? No worries. All their burgers are crazy good.
Dairy Mart not only has great food, but they are famous for their friendly service.

   Dairy Mart
Brazos Market & Bistro/ Hole in the Wall Grill & Bier Garten
Bistro by day and seasonal patio with live music by night, the Brazos Market & Bistro has been crafting amazing eats since 2010.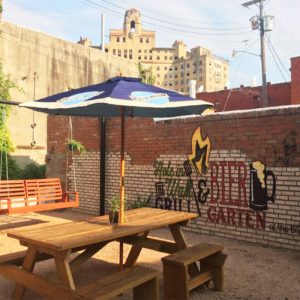 With ever-changing off-menu specials like Gouda Grits and Mahi Banh Mi Spring Rolls or Avocado Quail Burgers with Wagyu Patty and a Fried Egg, the Bistro is a treat for all your senses. Certainly a contender for the most exotic meals in Mineral Wells.
Follow them on Facebook to see what's on the daily special or enjoy a menu mainstay like the Stuffed Avocado or the Grown Up Grilled Cheese.
Trust me, it's no ordinary grilled cheese. Imagine this…perfectly grilled spinach with tomatoes, mushrooms, onions. Warm, melty provolone cheese and basil pesto. All on dark wheat bread. Yes please!
If grilled cheese sandwiches are just for kids, then adulting just got a little cheesier. You're welcome.
Or grab the gang and head to the patio out back for an evening of live music and a great view of the Baker Hotel. Even more, the grill menu will have you licking your lips for prime ribeye salad, lobster, or something amazing from the grill.
While you're there, browse their market for all kinds of fun, eclectic, and sarcastic items. And if that wasn't enough, they even have a fantastic vacation rental for your weekend stay. The balcony looks out over the patio so you can enjoy the music with a great view. Seriously, they have it all!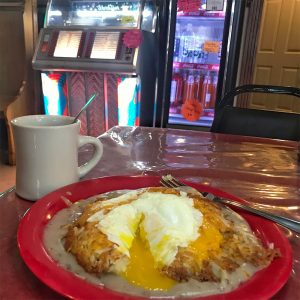 Looking for a breakfast that puts ordinary biscuits and gravy to shame? Well then let me introduce you to the Twisted Biscuit. Topped with sausage gravy, hash browns, a cooked-to-order egg and cheese, this Happy Days Diner favorite will have you doing the Be Bop Alula.
They also have a great lunch menu, yummy desserts, and ice cream.
While you wait for your meal to arrive, take in some local history in this 50's style diner. Give a quick thumbs up and a friendly "Aaay" to Fonzy and get your photo with Elvis before you go. It's not uncommon to see a drool-worthy classic car or two parked out front either. People love this place.
Now that you've had the best breakfast in Mineral Wells, it's time to head north a couple blocks and try the best sweets in town.

 Happy Days Diner
Hickey's Dairy Queen
I know…you're probably thinking to yourself, "Everybody has a Dairy Queen." And you're right. There are Dairy Queens all over the place. But, if you think all Dairy Queens are the same, you haven't been to Hickey's Dairy Queen.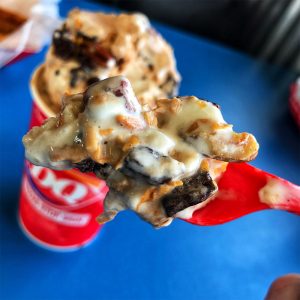 Seriously! For the sake of all that is yummy, you MUST go see for yourself.
Just look at that Blizzard. It's a German Chocolate BROWNIE Blizzard. And they put so much Blizzard in their Blizzards that you can't possibly put a lid on. That mound of sweetness easily reaches 3-4" above the top of the cup.
Now that's the way a Texas Blizzard should be.
What makes this DQ different?
So, aside from their Texas-sized proportions, what makes Hickey's DQ so special? Oh friend, let me count the ways.
Not only are their Blizzards mounded high, they have more than 30 flavors and they always have "extra" ingredients that you simply can't resist.
Wait till you hear this one. Their onion rings… hand-dipped in ice cream and flour. Yes, you read that correctly. Ice cream.
Have a hankering for Frito Pie? Hickey's DQ has a Frito Crunch Burger that'll have you wondering why you never put your Frito Pie between buns before.
Love Texas Toast? How about a Ham and Cheese Club Sandwich on the official bread of Texas. (Well, if it isn't official we need to do something about that.)
We could go on and on, but you really need to visit them for yourself. Your taste buds will thank you.

 Hickey's Dairy Queen
Natty Flat Smokehouse & Gift Shop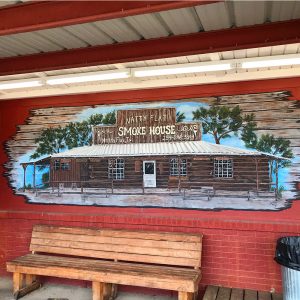 If you love barbecue, then you must plan a stop at Natty Flat Smokehouse. Like any proper barbecue joint, they have mouth-watering brisket, savory pulled pork, and tasty red beans. But they have a few dishes that you simply can't get anywhere else.
Whenever I hear "Natty Flat" I immediately think of their Baked Tater Salad, not to be confused with your grandma's potato salad using mustard or mayonnaise. This, my friend, is something completely other. It's like a loaded baked potato that's been mashed, mixed together and the peel removed. Um…yes please!
They have a couple other dishes that'll have you questioning the validity of all other barbecue restaurants.
Smoked Bologna Sandwich: Thick hunk of smoked bologna on a bun and served with Natty Flat's own barbecue sauce.
Grilled PBJ: Yup, it is what you think it is. Peanut butter and jelly served grilled between two thick pieces of Texas Toast.
Now that you've had the best bbq you'll definitely need something sweet and their Banana Puddin' hits the spot. A good old barbecue meal simply isn't complete without a sweet southern dessert.
Oh…did I tell you they have two locations?
Lipan
Their original location is in Lipan where you'll find the "Star of Texas Rocker", the Guinness World Records' largest cedar rocking chair. 

#7 on our Top 10 Instagrammable Spots in Mineral Wells. You can also shop the Texas Hill Country Furniture and Mercantile, a premier store for furniture and home goods, grab some delectable baked goods at the Bent Bucket Bakery, and on occasion enjoy live music on the porch.
Mineral Wells
Just one block from Downtown Mineral Wells, you can visit Natty Flat's second location. It's quite a bit smaller, but just as good. In fact, they've won awards for their barbecue-goodness. They even have a smaller version of the Star of Texas Rocker out front.
Ever hear the phrase, "If we could only bottle that up and take it with us?" Well, at Natty Flat, you can! They have a wall full of canned goods from squash pickles and hot chow chow to taco cheese dip and peach salsa. And they have another wall of old-fashioned candy.

  Mineral Wells: Natty Flat Smokehouse & Gift Shop
Crazy Drinks you must try
Famous Water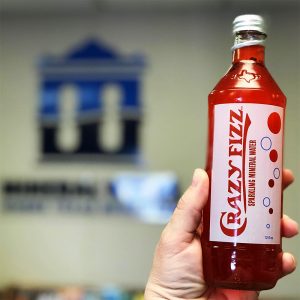 A little thirsty after all that yum? No Bucket List of crazy eats and drinks you can get only in Mineral Wells would be complete without a stop at the Famous Water Company, a.k.a. Crazy Water, for a Crazy drink made your way.
Decisions, decisions, decisions. Will it be Crazy Sodas (with or without cream), Crazy Hot Cocoa, or Crazy Infusions? My favorite is a Blue Raspberry Crazy Soda…no cream please.
Don't need all the flavor-froo-froo?
You can always go au natural with Crazy Water straight from the well or Crazy Fizz Sparkling Mineral Water for an extra kick. It's all good, and good for you so you really can't go wrong.
Visiting the Crazy Water Pavilion is #1 on our Top 10 Things To Do in Mineral Wells. They also have  lots of great Crazy-Souvenirs and some really cool old postcards from the 20's & 30's. While you're there, take a selfie with the Dr. Dismuke Water Bottle Statue. 

 That's # 6 on our Top 10 Instagrammable Spots in Mineral Wells
Coffee & Cocktails @ 76067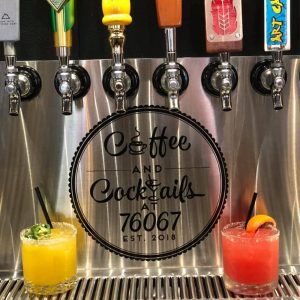 Looking for a beverage of the adult kind? Head over to Coffee & Cocktails @ 76067 for a handcrafted cocktail. Check out these cocktails created with Mineral Wells in mind:
The Old Baker
The Grand Lady Lemonade
MW Old Fashioned
Clark Garden Elixir
180 Smash.
They even have some eats that make them a genuine Mineral Wells foodie destination. So you'll want to try out the Mineral Wells Pizza, 76067 Club Sandwich or one of the Black Horse Quiches
Ask the bartender to tell you the story about the big pink flying pig with all the signatures on it. ????
Once your belly is full, it's time for some serious shopping because Coffee & Cocktails @ 76067 is in the same building as The Market @ 76067 where you can shop to your heart's content. And…you can take your wine with you! Everyone knows you shop better with a glass of wine in your hand. Right?
But wait…there's more! (you're supposed to read that in a big infomercial announcer voice.)
Like The Brazos Market and Bistro, Coffee & Cocktails has a patio where you can enjoy live music and conversation with friends…and try out another Mineral Wells themed cocktail, of course.
Since we're getting new restaurants all the time, make sure to come back and check this post every now and then. We'll update  this dining guide to eats and drinks you can get only in Mineral Wells so you can experience what makes Mineral Wells a crazy-good foodie destination.
While Mineral Wells is one of the best small towns for foodies, with this Foodie Bucket List, you'll need to plan a whole weekend trip. No worries, we can help you make a To-Do Bucket List too. Explore links below, follow us on the socials, or stop by the visitor center for more trip planning ideas.