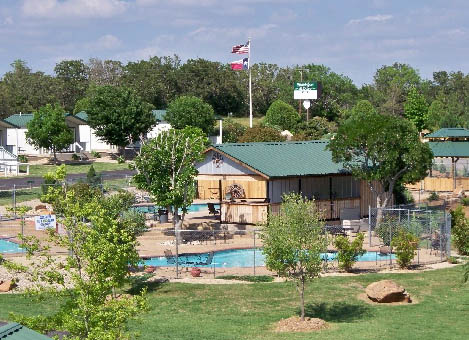 Mitchell Resort & RV Park
The Mitchell Resort & RV Park is located in the beautiful Texas town of Perrin and is a great spot for a fun southern escape. Come enjoy 180 country acres of outdoor fun and relaxation.
This resort once know as Mitchell RV Park, is located in Perrin, Texas, (approx. 50 West of the Dallas -Fort Worth Metroplex). Willie and Frances Mitchell offered Bluegrass Festivals on this land, beginning in 1975. Our purchase in January, 2003 soon became a real adventure of a lifetime. This land is in a unique, quiet, country setting on 180 beautiful acres in Jack County. Bluegrass is being kept alive on this land to honor the Mitchell Family. We offer our guests many ways to enjoy both relaxing or invigorating activities as well as live music, holiday events, and adult dance weekends. The recently added Oak Meadow Center allows our guests the comfort of climate controlled events with perfection to quality sound. We hope to see you here "In the Middle of Nowhere" per some guests but to us it is the "Center of The Known World" and TheBestKeptSecretInTexas.com
All Cottages Are SINGLE FAMILY COTTAGES
Amenities:
180 Country Acres of outdoor fun!
46 Cottages and 
112 RV Sites
18 Hole Mini-Putt Golf Course
9 Hole Par Three Golf Course
Kit and Caboodle General Store And Office
Four Swimming Pools Including an Adult Pool,Volleyball Pool,Toddler Pool and Splash Pad and Gazebo
3 Meeting Halls
 Oak Meadow Center
24 Hour Laundry
Clean Bath Houses
Cable TV / Wi-Fi
"Mitchell Field" Home of The Possums and Armadillos baseball fields
RV'ers Off Leash doggie play yard
Basketball and Volleyball courts
Stockyard music stage
"TODDLER TOWN" Playground
"YELLOW TOWN" Playground
"PARK CENTRAL" Playground
Events:
Check out our event calendar here.
Park Fees:
Information on guest fees can be found on the Mitchell Resort website.